Pampered Pooches walk "ONE MILLION" Steps 🐾 For Their Shelter Friends!
Their goal is to walk ONE MILLION steps in the month of October 2021 and raise $12,000 for Animal Lovers League!
Beneficiary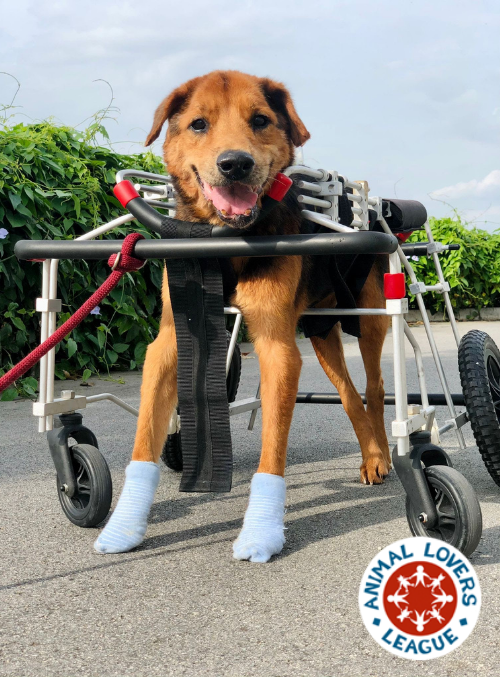 This handsome and faithful dude you see here is 15 years old "Daddy". For the past 5 years, Daddy has been a permanent resident at Animal Lovers League (ALL), a registered charity and no-kill animal shelter.
He belonged to a group of dogs in the thickened area in Sungei Tengah. For years, ALL helped treat the dogs in that area whenever they received feedback of any injury from their feeders and volunteers.
Sadly, one day, the other dogs ganged up on Daddy and left him totally ripped and helpless in a drain.
After more than a week at the vet, ALL took him into their shelter where he slowly recovered and adjusted to his new surroundings and could once again soak up the sun and watch the world go by without having to fend for himself. He made friends as he gracefully aged.
However, in 2018, Animal Lovers League, along with many other shelters were relocated to a purpose-built facility at Sungei Tengah. Gone were the days of a large open field where the shelter dogs had the luxury of running around freely.
Caged up with only a limited amount of exercise each day, Daddy gradually lost his ability to use his hind legs. Now, he moves around in a doggy wheelchair using only his front legs.
Daddy is one of many heartbreaking stories in Animal Lovers League.
The Big Picture

Our Walks
Each of our daycare doggies will have a step tracker attached to their collar / harness. Follow us on our excursions and keep track of their progress!

Share
Tell ALL your family and friends about our daycare doggies' mission and get them to help spread the word too!

Encourage
Send our daycare doggies words of encouragement via our social media pages!

Donate
Open up your wallet to generously support our daycare doggies' mission!
Meet our Warriors
Rain or shine, we walk our daycare doggies everyday. We always have so much fun exploring all the different parts of our beautiful island.
All dogs are loyal and they love to make others happy, which is why our daycare doggies are now on a MISSION!
Their goal is to achieve ONE MILLION steps in the month of October 2021. By reaching this goal, they hope you will donate generously to their beneficiary.
WE ARE ABLE, WE ARE CAPABLE AND WE ARE HERE FOR OUR FRIENDS!
Our goal is to raise $12,000 to pay for lodging, food and medical for our dear friends.

– The Warriors
Tap or click on your favourite warrior and support their cause by donating generously and sharing their individual achievements with your family & friends.
Mission in Progress
Keep track of our total steps walked with your generous donations pouring in.
Total Steps Walked: 1,043,064
100%
---